Трансформаторы тока MAK-ru
МАК-ru
Current transformer
Cheaper and smaller than many foreign analogues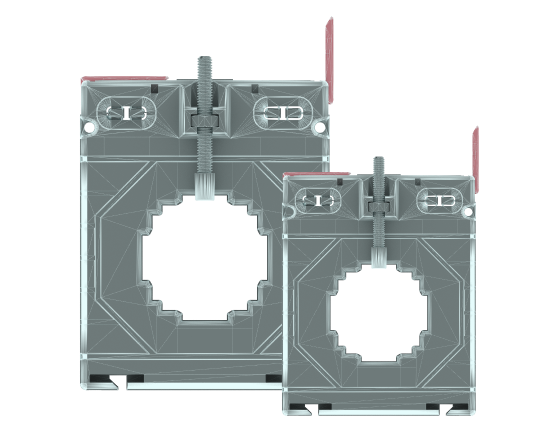 Delivery terms do not exceed 4 weeks,
including tests and verifications. Popular products in stock
Prices do not depend on exchange rates
All possible measuring needs
in the current range
5-6000 А
Any accuracy classes,
up to laboratory
measurements
full cycle of acceptance tests according to GOST 7746-2015
Please enter at least one parameter
There are no analogues of this transformer, but we can offer you other products
Found:
<% filteredProducts.length %> matching results
<% item.model %>-<% item.amperage %>/5-<% item.class %>-<% item.nominal_load %>
<% updateNumber(item.price) %> ₽ (with VAT)
(with VAT):
<% analog.analog %>: <% updateNumber(analog.price) %> ₽
Primary winding current
<% item.amperage %> A
Secondary winding current
5 А
Rated load capacity
<% item.nominal_load %>
Accuracy class
<% item.class %>
WхHхD, mm
<% item.width %>х<% item.height %>х14
Model characteristics <% item.model %>
* The prices of analogues are shown for information and were taken from the websites of official distributors
Choose from the catalogue
MAK-ru current transformers stand out from their analogues
Advantages
Reliability and safety
01

Transformers are manufactured as non-disassembled and sealed, which excludes access to the secondary winding.

02

The housing is made of glass-filled polyamide (self-extinguishing material) providing high strength in a wide temperature range as well as the highest dielectric parameters.

03

Maintenance free.

04

Modern packaging protects against any damage during transportation.

05

Each transformer has a QR code that provides quick access to all its specifications, production and verification dates, testing results.

06

Service life - 25 years.
Ease of installation and fixing
01

Suitable even for very limited spaces thanks to small dimensions.

02

Can be securely fastened to busbar or cable of various cross sections and configurations, mounting plate and DIN rail; full set of fasteners is included in the delivery.

03

Saves internal space in the cabinet: the dimensions enable to perform busbar wiring to circuit breakers without the use of expansion poles.

04

The transformer housing has a textured surface, which reduces the chance of slipping and falling during installation.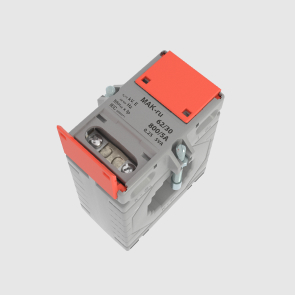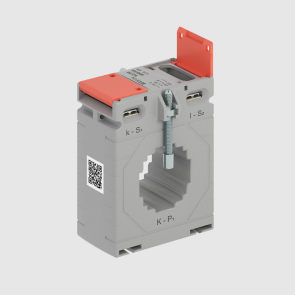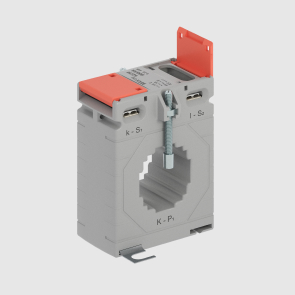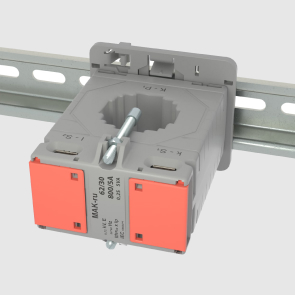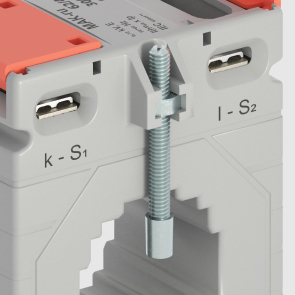 We can produce
Transformers

with any parameters on request Send a request
Possibility to produce transformer with any parameters (e.g. 1356А/8А)

Any primary winding current
Any secondary winding current
With extended (up to 200% of rated) primary current range
including the capability to operate for a long time at this current
including with confirmation of laboratory verification
Any accuracy class
including laboratory (0,2S)
including for the use in commercial electricity metering
Possibility to produce transformers in the customer's corporate colors
Services for qualified verification of measuring transformers of foreign manufacturers
Design/standards
Design/standards:
thermoplastic with 20% fiberglass filling
Insulation class Е:
120°C max.
Operating temperature range, °C:
-10… +40
Storage temperature, °C:
-45… +50
Rated operating voltage, kV:
0,4
Maximum operating voltage, kV:
0,72
Test voltage:
2 kVrms50 Hz 1 min.;
2,2 kVrms 50 Hz 1 min. (tropical version)

Testing up to 5 kV is possible
Rated mains frequency, Hz:
50…60
Primary winding rated current, A:
1, 5, 10, 15, 20, 30, 40, 50, 75, 80, 100, 150, 200, 300, 400, 500, 600, 750, 800, 1000, 1200, 1500, 1600, 2000, 3000, 4000, 5000, 6000 (согласно ГОСТ 7746)
Transformers can be produced with any primary winding current
Secondary winding rated current, А:
5; 1
Transformers can be produced with any secondary winding current
RATED LOAD CAPACITY AT cos φ = 1,0, VA:
0,5; 1; 2; 2,5; 5
RATED LOAD CAPACITY AT cos φ = 0,8, VA:
3; 5; 10; 15; 20; 25; 30; 40; 50; 60; 75; 100
ACCURACY CLASS:
0,2; 0,2S; 0,5; 0,5S; 1; 3 (according to GOST 7746)
THERMAL SHORT CIRCUIT CURRENT (Ith)
Current transformers with primary winding: 40x In, busbar type: 60xIn
DYNAMIC SHORT CIRCUIT CURRENT
(Idyn) 2.5 x Ith
RATED SAFETY FACTOR
OF SECONDARY WINDING DEVICES FOR MEASUREMENTS:
5;
10
RATED MAXIMUM MULTIPLICITY OF SECONDARY
WINDING DESIGNED FOR PROTECTION:
5;
10
DEVICE PROTECTION FACTOR:
(FS) 5, 10
PERIOD BETWEEN VERIFICATIONS:
8 years
Show all characteristics
Hide characteristics
Transformer production company
ELERON uses the latest production line that was introduced in 2020 and covers all production process stages – from designing to packaging – for manufacture of MAK-ru transformers.
Current capacity of the line allows to produce up to 50 000 transformers per year
In the near future, ELERON plans to launch production of open-core transformers, extending the product range to 17 standard sizes.